The Cameron Automobile - Ahead of Its Time
by David Setterland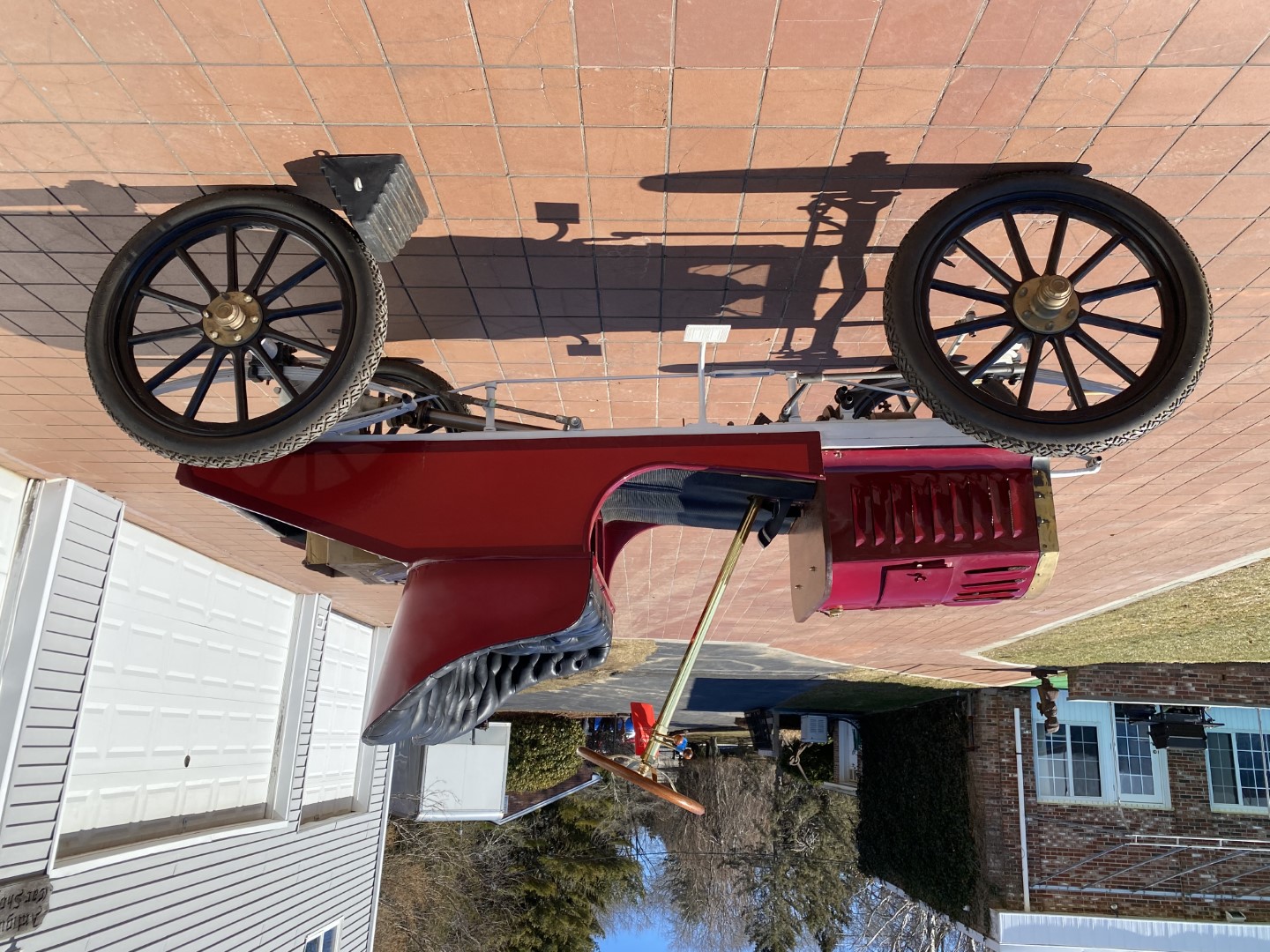 PREFACE - Private email from David Setterland to Dick Shappy after Mr. Setterland and Steve Baravella who worked for Intercity Lines for 25 years toured Shappy's classic cars collection
Dick, I wanted to thank you for spending so much time with Steve and I. Quite honestly you are a man that boggles the mind, having so much knowledge, and putting it all to good use. What I like best about you is: You're a historian to the bone. You realize the importance of preserving what previous generations had built in style and class. Unlike the generation of today who wants to just tear things down and build things out of plastic with a computer brain. I know you are good friends with Leno, and in comparing the two of you, your both very similar in being current day historian experts in the progression of the internal combustion powered automobiles through the 20th century. I just wish when I was younger, that I had known you.
Steve was so impressed with what you have accomplished in realizing when to save parts that are off original factory-built cars. We talked when we left your showroom and both agree, your accomplishments in the Antique motor Car and Motorcycle world, could be one fabulous book to be written and read.
I love your website: www.classiccars.ws I have to spend more time reading everything you have shared on it. Thank you.
The Progression from Horse Drawn Carriages to the Automobile
And the Men Behind the Movement 1891-1948
The Cameron Automobile - Ahead of its Time
The following is one chapter from a proposed three volume set.


PART #1 - ECLIPSE AUTO­MOBILE COMPANY
The Cameron brothers, Everett and Forrest, first built bicycles in Brockton, Mass­achu­setts. They next started build­ing steam cars in Easton, Mass­achu­setts. The town of Easton was the home to Oliver Ames shovel factory, who had a foundry producing all kinds of shovels with the railroads being their best customer.
Everett had tinkered around in the late 1890s working on build­ing a workable steam car. By 1900, he succeeded with the Eclipse Steam Car, being built in Easton. In January of 1901 at the Boston auto exhibition at Mechanic's Hall, Everett displayed three of his steam cars with a sixty-two-inch wheelbase and tiller steering costing a $1,000 each. At the show he sold seven of his steam cars to the United States Postal Service, the Head Postmaster of Boston thought they would make mail delivery more efficient. The one difference of the Eclipse Steam car developed by Cameron was it had a shaft drive. After three years of producing steam cars the Eclipse Auto­mobile Company of Easton with their head office in Boston went under due to low capitalization. Many companies starting out had the same problem of not enough capital during the mild recessions that took place every few years.
PART #2 - TAUNTON AUTO­MOBILE COMPANY
Everett Cameron had left the Eclipse Auto­mobile Company in late 1901 to join D. L. Brownell to build steam cars named the Taunton Steam car. Once Everett Cameron joined forces at the 28 Court Street factory in Taunton, that had manufactured tacks for the shoe and boot industry. The new Taunton auto­mobiles were put into production. The production of three-cylinder steam cars with drive shaft and water tube boiler sold for $1,000 each. They offered a touring car or a smaller runabout with special elliptic springs on both the rear and front for a smoother ride. By the end of 1902, the company had built and sold over twenty-five auto­mobiles with a few carrying the name of Cameron. The rest were Taunton automobiles.
Everett Cameron decided to move to Paw­tucket, Rhode Island to start build­ing his own auto­mobiles carrying the Cameron name. In January of 1903, the county sheriff auctioned off all of the parts, machinery and other assets in Taunton for $785.00. Another business group took over the factory at 28 Court Street in Taunton and named their new company, the Taunton Motor Carriage Company. They produced gasoline powered seven horsepower auto­mobiles selling for $850 each. Soon after the new company moved to 31 Tremont Street ,Taunton, they stopped producing auto­mobiles, while kept manufacturing gasoline engines for boats, bikes and other auto­mobile companies.
PART #3 - THE CAMERON CAR OF PAWTUCKET, RHODE ISLAND
Everett and Forrest, convinced the James W. Brown Company of Pawt­ucket to manufacture their Cameron designed auto­mobiles powered by air cooled gasoline engines. The Brown Company had specialized in build­ing textile machinery for the many mills along the Blackstone River that ran through the heart of Pawt­ucket. In 1903, production started, building 223 autos in the first year. The second year of production, they built and sold 473 auto­mobiles. At the time the Cameron automobiles were sold under a different corporation named the United Motors Company. Starting in 1905, Brown company took over advertising, marketing and selling the Cameron autos. The cars were ahead of their time with drive shaft connecting the engine to the rear end, and a steering wheel instead of a tiller bar. They also gave a choice to the customer of having a two- or three-cylinder engine to power their auto­mobile. Their motto was " King of all Weather" after winning a hill climb up to the top of Mount Washington in the White Mountains of northern New Hampshire. By the year's end of 1905, they built and sold 617 cars. The James W. Brown Company also decided to sell out with the new owners making a decision to build industrial textile machinery only, and discontinued the auto­mobile production. The Cameron brothers were now without a factory to build their well-built auto­mobiles. They decided to move back home to Brockton and try to raise capitalization to start build­ing the Cameron car again.
PART #4 - THE CAMERON CAR COMPANY OF BROCKTON, MASS­ACHU­SETTS
After returning to their home town of Brockton, a small city known for the shoe industry but quickly becoming known for the new start up auto­mobile manufacturers. They recruited investors to start build­ing cars again. During the year of 1906, the brothers did not build any auto­mobiles but did get their financing and set up the factory to start production for the 1907 model year. Once back to build­ing cars, Everett wanted to improve the Cameron car by designing a rear mounted gear box, it was a new idea and brought much publicity to the Cameron. All Cameron cars being built by the brothers in control offered both four- and six-cylinder air cooled engines. By the end of the year they had produced 317 Cameron cars. They also realized they needed more factory space and added investment capital.
Their Brockton address was short lived with the brothers moving the company into a much bigger factory that was the Upton Factory in Beverly, Mass­achu­setts. Colcord Upton had designed and patented a planetary transmission. Upton had been a merchant seaman but had decided to start build­ing a car named after himself while utilizing his own produced transmissions. The car was called an Upton and powered with a DE Dion one-cylinder engine. After two years he changed the name to the Beverly car. Another two years later, he moved the whole operation to New York City, then Lebanon, Pennsylvania. This made his factory available for the Cameron brothers with a lot of machinery in place. Beverly, some twenty miles north of Boston also was a growing area with a work force to help the Cameron grow. The first year in Beverly they built 397 cars with their goal of producing more units and to start build­ing commercial trucks as well. In 1909, they added a manufacturing plant in New London, Conn­ecticut and another plant in Attica, Ohio where they received a lot of financing making it worth their while. build­ing 1,153 auto­mobiles in the period of 1910 and 1911, their newest expansion started to build trucks in Alma, Michigan.
The company also was participating in races all over America as well as England to Pretoria, South Africa. The Cameron air cooled engines were becoming popular, with the new four speed transmissions. By 1913, the Cameron Company decided to close all of their existing plants and move everything to the old Matusek Piano plant located in West Haven, Conn­ecticut. In Orange, Conn­ecticut a brand new $1,000,000 Cameron auto­mobile factory was about to open.
The management was feeling very good in their new home and offices, they also designed a new sporty car to take the public's attention with the new model called the "Yale Featherweight Flyer". With expectations of build­ing over one thousand auto­mobiles in the coming year, problems would rise and cause the Cameron Auto­mobile Company to shut down. In Europe WWI had started and most of the businessmen who promised financing for the new Cameron factory stalled and did not come through. For Everett Cameron he decided to shut down his operation and rent out his new factory to two different businesses. One being the Avis Gun Company, and the other to Euclid Motor Car Company, builders of light weight smaller cars called cyclecars. Everett without a car to build decided to help build the Euclid car while also bringing his sales manager Frank Corlew on board. I am sure Everett's thinking was to have the Euclid succeed so they could cover the expenses of renting the factory.
PART #5 - EUCLID CYCLECAR
Euclid Cyclecar being the idea of Edward Scheu to try and build his own auto­mobile, teamed up with Cameron and Corlew. Scheu had started a full decade before working as a stock boy for the Packard brothers in Warren, Ohio. Next, he worked his way up to general manager of Invader Oil Company of New York before moving to West Haven to start build­ing the Euclid. The Euclid was a very small car with the wheels being only forty inches between them, and the car being just eight feet in length. Cameron designed an air cooled; four-cylinder engine rated for fifteen horsepower. Having a two-speed transmission and weighing only 775 pounds. They kept the cost down to $445. They soon entered into an auto show naming it the "Baby Grand". General Motors soon threatened a lawsuit as they already had a model called the Baby Grand, built in St. Louis, Missouri. Scheu and Cameron with no extra money to waist fighting a court case changed the name to the "Grand Baby". The customers looking to buy an auto­mobile liked the price of the Euclid but not liking the small size. Needless to say, it did not sell and Everett Cameron soon distanced himself from the Euclid in July 1914. Cameron wanted to start build­ing his own car again but after almost going bankrupt, working with Scheu helped carry him into a better economic period. Before the year ended, Frank Corlew head of sales and marketing had a falling out with Scheu, this helped cause them to go out of business.
Beverly Rae Kimes and Henry Austin Clark Jr. wrote that Everett Cameron had designed a water-cooled gasoline engine for the Euclid cyclecar, but it weighed too much to be used in the light weight cyclecars of the day.
PART #6 - THE FINAL YEARS
In 1916, Everett Cameron again started to build an auto­mobile named the Cameron. This time in a warehouse located in Norwalk, Conn­ecticut. With investors backing, Cameron built a new water cooled six-cylinder auto­mobile to be priced at a $1,000. He built just a few prototypes before the investors backed out. But Everett would not give up and in Stamford, Conn­ecticut in 1919, he started to build air cooled engines again. Instead of auto­mobiles he started build­ing front wheel drive tractors. Cameron did produce 97 vehicles for the year with some being auto­mobiles. The next year of 1920, he built his last Cameron auto­mobiles and tractors numbering only 23 for the year. The brothers had separated with Everett starting to build air cooled engines for airplanes and marine engines. Forrest had moved to Cleveland where the auto­mobile industry had been booming with hopes of build­ing a new Cameron auto­mobile. Forrest hooked up with F. H. Bultman Company, build­ing a prototype car weighing a thousand pounds on a 104-inch wheelbase having an air cooled four-cylinder engine. The car was more of a touring car with a cantilever spring system for a better ride. Financing was not found and Forrest next worked designing autos for the Marsh brothers, who had started out in Brockton, Mass­achu­setts the same as the Cameron brothers build­ing bicycles then auto­mobiles. Marsh cars were now being built in Cleveland, from 1920 through 1923. At the same time in 1920, Forrest worked as a design engineer on the Pomeroy Car. Forrest worked with Lawrence Pomeroy who had come from England after designing the Vauxhall and double six Daimler auto­mobiles. The Vauxhall was known as the auto­mobile for royalty and dates back to the first decade of the 1900s. The Daimler double six was their fancy way of describing the first twelve-cylinder Daimlers that is the parent company of Mercedes-Benz.
PART #7 CAMERON AUTO­MOBILES IMPRESSED WEALTHY EUROPEANS AND SOUTH AFRICANS
Written in Auto­mobile Quarterly, the fourth quarter of 1975, Volume XIII Number 4, is a visual story of a wealthy Swiss man owning a castle on Lake Neuchatel just north of Lausanne, Switzerland. His medieval castle sitting at the base of a mountain exhibited the best built auto­mobiles at the turn of the century. Each of the priceless antiques were photographed by themselves, parked on a cobblestone path with granite walls and cast-iron gates. The 1902 Cameron as described was one of the first to have a steering wheel, front mounted engine cooled by air and driven with a drive shaft instead of chain and sprocket. To be collected in the early pioneer days with the likes of Delahaye, Turicum, LaSilencieuse, Larroumet & LaGarde, Aster, Rochet-Petit, Dumont, DE Dion and a Benz, is a compliment in itself. The Cameron was the only American built auto­mobile considered by Industrialist Georges Filipinetti deserving special attention. In the first decade of auto manufacturing the Italians, French and Germans were considered by far to be the best engineers and designers of the new horseless carriages. South Africans also bought Cameron cars, when European cars were far more accessible to buy.
Interestingly both Cameron brothers have little written about their many accomplishments in build­ing engines and designing auto­mobiles. Both should be inducted into the Automotive Hall of Fame, but neither are. They are honored for their accomplishments in both the Horseless Carriage Club and the Antique Auto­mobile Club of America. I could only find personal info on Everett Scott Cameron being born in Nova Scotia in 1877, and moving to the Brockton area at a later date. Also, one web site stated there are only 15 Cameron auto­mobiles known to still exist today. Some could exist in European collections that are unknown to us here in America.
Suggested Reading for the full story of the Cameron auto­mobile, a book titled " Cameron Story " by William Cameron of no relation. (If you are lucky to find one of the books! I could not!)


David Setterland
History researcher and author specilizing in Automotive History
Plymouth County, Massachusetts, United States